Black Country Triathletes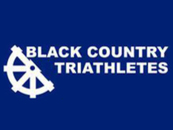 Black Country Triathletes
News Report
The Fred Whitton Challenge
Author: Paul Gamston, 15/05/18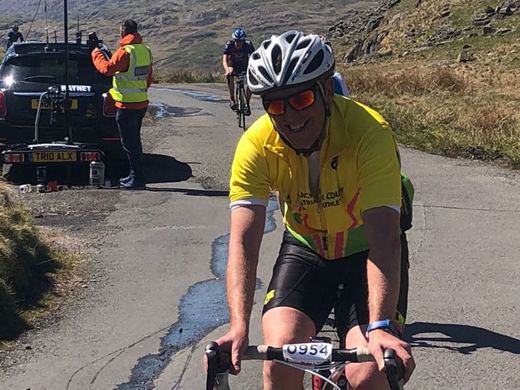 My riding partner was the Clive Middleton the ex BCT chairman and friend & for those that know Clive you'd also know he was the perfect choice as he's a strong headed rider and was determined as I to crack the mountain passes.
The entry fee, pre-event information and organisation on the day were very good indeed & no complaints from me at all and I felt it was all value for money, the course felt like you were being taken on a guided tour of the lakes as it was spectacular riding through some of the best iconic English mountains and lakes on offer!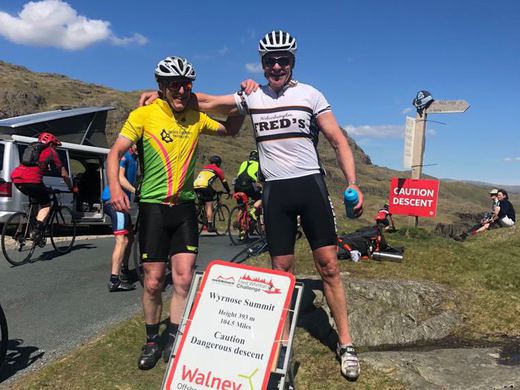 An early start is needed and you roll out flat alongside Windermere for several mile then kick left up a 25% gradient lane for a climb that takes you up into heavens – riders chains were snapping & gears were crunching all over the place on this first test!

From then on in the course is like a roller coaster so up and down you go without any time time to relax as full on concentration was needed as the riding was very technical and challenging indeed, I could see all of my fellow riders had their pockets full of food to snack on as energy and fuel was quickly used with all the relentless climbing – official feed stations were located at 50 and 80 mile points and were plentiful and well stocked, there were also allot of ad hock feed stations set up by local cycling clubs that could be used by anyone not just the club riders involved etc, they were usually on top of the mountain passes.

Talking of mountain passes the course involved several official major climbs, but most people said that there was about 15 climbs of note and another 15 you'd normally ride around and avoid if you were looking for an easy rideout!
The famous and most challenging 'The Hardnott pass' came at around the 95 mile point when the old legs and body are looking for the finish line, with a flat lane run up you could clearly see the riders 'snaking up into the gods' and it made the hairs on the back of your neck stand with part fear part excitement as the gradient was 25-30% with no hairpins in sight just a vertical 2 mile ramp up into the saddle between the peaks! Once on top every drop of willpower and grit had been used up I thought until I looked down the valley to see the next pass looking just as tough that we had to get up & over before the finish...

Well we both finished well as a pair with a total ride time of 7 hours & 47 minutes and in good shape considering !! We did see a good few crashed out riders under medical assistance on all the descents and it's wise to remember that safety before speed is the number one rule on any hill when your at the top, it's easy to get carried away and think you lost time on the climb so will make it up on the decent! So, don't do this just ride safe for another day....

Should you consider riding this sportive in the future ? Well as a Triathlete your into testing yourself beyond the norm aren't you ?
So, why not make a weekend of it – Swim in Windermere the day before the ride & run around the lake the day after!
All this fun in the most spectacular scenery in England – Of course you should....

Paul Gamston
Follow the site to get the latest news and results straight to your email