Black Country Triathletes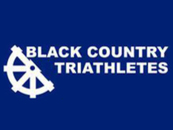 Black Country Triathletes
News Report
Cardiff Triathlon Olympic Race Report - Huw Jones
Author: Huw Jones, 28/06/18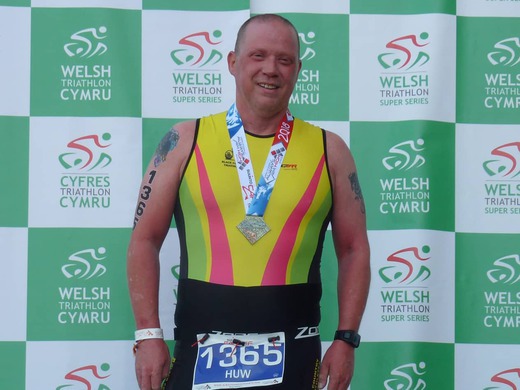 After working at the 70.3, however, I was hooked.

Since then I have joined Black Country Triathletes (obviously…), read books and magazines, listened to podcasts, watched YouTube videos, talked (and listened) to current and former triathletes, had a bike fit at Bridgtown Cycles, upgraded my wheels and added aero bars, and watched TV coverage of triathlons (including of the 2017 Staffs 70.3. If you're quick with the 'pause' button as the first shot of the lead and second males' run comes on, you can just about see a fat bloke in hi-vis yellow behind them on a pushbike. That'll be me. Happy to sign autographs).
My training has involved regular Wednesday evening swimming at Wombourne, a few open-water sessions at Chasewater, cycling on Zwift through the winter and around the fabulous (if potholed) Staffordshire lanes in the better weather, and running on my own and with Brewood and Coven Running. I have done two sprint triathlons, a 10k run and a half marathon, so far still on course with my build-up to a 70.3 in 2019 and, if I haven't broken myself completely, a 140.6 in 2020.
Right. Back to my first Olympic. This happened last Sunday, 24 June 2018, in Cardiff. "Why Cardiff?" I hear you cry. The honest answer? I liked the look of the medal!
I booked my place in February, in part to ensure I was committed, and a few weeks ago booked an Airbnb for me, my long-suffering, patient and supportive wife, my parents, and our dog for the night before the event.
Then the email arrived with the final instructions and my start time. 07:05. And I had to rack my bike that morning and be out of transition before 06:15.
Breaking that news to my wife, who was going to drive me from our accommodation to the start, then head back to collect my parents, was quite a painful experience. We're still married.
Come the big weekend, we headed for Cardiff and for registration on the afternoon before the event. After overcoming a couple of navigational difficulties (Cardiff has some new roads which my satnav is not aware of yet) that all went pretty smoothly, and we wandered back to the car, me clutching my registration pack, event t-shirt and a sun visor I had blagged from the Pedal Cover insurance guys (managed to get it in the official race photos though, so they got some publicity out of it). Despite everything going almost as planned I was feeling really stressed about the event, and wasn't the most chatty and affable person in the car.
After settling in to our accommodation, about 25 minutes' drive from the start line, I set out all my kit for the day, checked it about 400 times, and packed it. I applied my number tattoos, and tried to get some sleep. Having worked until 2am the night before, sleep did not come easy at 10pm, and when it did come it only seemed to hang around for half an hour at a time.
Tip 1: courtesy of Sarah Postles, was talcum powder in my socks, bike shoes and trainers.
Alarm, 04:40.
Up, breakfast, dressed in trisuit and posh flipflops. Woke wife, provided tea, headed out to car. Drove to transition, unloaded kit and bike, kissed wife, disappeared into the throng as she drove away.
I racked my bike without incident, carefully putting my helmet the right way round on my new tri-bars to avoid a repeat of the 'trying to put helmet on backwards' incident at the Wombourne Sprint. I also followed tip 2, but I can't remember where that came from (might well be Global Triathlon Network on YouTube): attach nutrition to bike with electrical tape. I opted to run the tape across the tear-off tabs on my gels, and attach them to my top tube. This meant I could grab the body of the gel pack and rip it away, opening it as I did so. I was estimating one hour 20 minutes for the bike, so stuck two gels on. Learning point 1: make sure the gels are dead in line with the top tube, as if they're slightly off (as mine were) they scratch your inner thigh as you pedal.
In an effort to win more marginal gains I had removed my saddle bag, and had used more electrical tape to make a parcel of an inner tube, tyre levers and a gas cylinder (with adapter attached). This I secured, with more tape, into the bottle cage on the seat tube. I made up one bidon of electrolyte solution, which went into the down tube bottle cage.
Run kit (shoes, glasses, Pedal Cover sun visor, one gel) was laid out at the back of my bright red transition position marker towel, with my bike shoes, socks and a small squirty bottle of sunscreen at the front.
Bodyglide applied, I went into half-dress in my wetsuit and left transition.
I walked the 400m or so, barefoot, to the swim start for the safety briefing. Learning point 2: take cheap, disposable shoes or flipflops to wear on the walk and discard at the start.
The briefing was quick but thorough, and the first wave was called up to the start. I was due to go in the fifth wave, so had time to watch the early ones set off. The start was delayed by about 15 minutes because the safety kayakers weren't in position, and the first wave were called back out of the water to wait. The atmosphere among those of us waiting to go was cheerful, friendly and excited. The water of Cardiff Bay was glassy smooth, and the morning was warm. Perfect conditions. A fellow competitor offered to help zip up my wetsuit, and showed me how to tuck the tape under the velcro fastening at the neck so it was easy to grab at the swim exit.
I spotted a good landmark on the opposite shore, directly behind the first buoy: a nice tall white mast, and planned to sight on that for the 500m-ish first leg. The official giving the briefing had told us to sight on the Norwegian Church on the shoreline after we made the 315-degree turn for the 1,000m-ish swim in. I couldn't see that from where I was standing, but imagined it would be easily visible.
The early waves went off, and suddenly I found myself walking down the path to the pontoon. Some of my wave jumped straight in to the deep water, and some lowered themselves from a sitting position on the pontoon. I took the plunge, literally, and jumped in, mainly to stop myself thinking about it and to prevent any last-minute chickening-out. That was the first shock: the water was lovely and warm (about the same temperature as Wombourne pool on a Wednesday evening – seriously!) but I was expecting sea water, and found it was fresh. That meant I went a bit deeper than I expected to after jumping in, and had to swim back to the surface. It turns out the bit of the bay we were in was behind a barrage, and is a dock formed by River Taff water, rather than the Bristol Channel.
We were held in deep water for a couple of minutes, and, following advice I had read/seen/heard, I manoeuvred myself to the edge of the 40-strong wave, for some clear water. The hooter blew, and we were off! I pressed 'start' on my watch, then flailed wildly for about six strokes. I realised I was not in control and was on the verge of panic, so took a breath, gave myself a brief talking-to, and settled into a nice, relaxed stroke, sighting on my white mast every four strokes. That worked perfectly, and I made it to the turn buoy with a good few of my wave still behind me. I swam around the buoy, and tried to sight on the Norwegian Church, but struggled to see it. I paused and breast-stroked for a couple of seconds, got my bearings on the church, and ploughed on. Sighting was still difficult for the next 500m or so, and involved a couple more pauses, before I realised that the exit was directly below a 'V' formed by the tops of two buildings on the horizon. After that it was full steam ahead, and I found myself passing a small number of swimmers who had started in the wave ahead of me, and two from the wave ahead of that. I got out of the water without any help from the crew members on the exit ramp, and half-stripped my wetsuit on the short run in to transition. I felt slightly wobbly for the first few paces of the run but that wore off very quickly.
My split for the 1,500m swim was 31:33, and I was REALLY pleased with that, having originally been panicking I wouldn't make the 50-minute cut-off. Thanks to Dave Hathaway and Alan for the swim coaching!
Learning point 3: after racking your bike, have a look at its location from the perspective of the run in from the swim exit. Despite the rows of racks being numbered, I managed to run down the wrong one, then past my bike on the right row, before I finally found it. I had only seen its position from the opposite end of transition before that. I'm not sure how much time that cost me. It felt like hours, but in reality it was probably less than 20 seconds of headless chicken impersonation.
I took my time with transition, staying calm and controlled. My wetsuit came off smoothly and easily, then I followed the advice of one former triathlete with whom I had ridden the Vélo Birmingham, which was "kneel down once, get up once". In other words, don't go bobbing up and down as you change from swim into cycle kit, which can send you a bit dizzy. The baby powder in my socks worked a treat, and they went on without a hitch, as did my shoes. A few sprays of sunscreen, helmet on and done up, bike off the rack, and I trotted off to the mount line.
The cycle course was little short of fabulous: closed roads, flat and only four braking points during each of the three laps – once at the hairpin at each end, and once at a sharp turn mid-way. I spent about 80% of the ride on my aero bars. Nutrition-wise, I followed advice from Chrissie Wellington's book and got myself settled before taking anything on board. I gave it half way round the first lap before having a gel, then had my second as I started the third lap. I drank little and often, and had about 25ml left in my bidon at the end of the leg, so got that just right.
Having learned from the Wombourne Sprint in April, when I went all-out on the bike leg and ended up barely able to walk, let lone run, after T2, I relaxed and didn't push too hard on the ride. I passed other riders, and other riders passed me. I was aiming for a 1:20 split, and the laps and my watch helped me keep on track with that. I rode my own ride, trying to make sure I was on the bars and had my race face on every time I passed one of the official photographers! I made a conscious effort to ease off for the last half of the last lap, to give my legs a chance to work after I dismounted.
My bike split was 1:19:07, so I got my pacing pretty much spot on for my 1:20 plan. The middle lap was the fastest, at 20.28mph, which also makes sense as it was the only 'flying lap' out of the three – lap 1 being from a standing start, and lap 3 incorporating my easing off in readiness for the run.
I had a bit of a near miss at the dismount line, when the cyclist in front of me stopped quicker than I anticipated she would. I ended up with a very impressive looking 'stoppie', back wheel in the air, which, luckily (trust me, it wasn't skilfully…) I managed to keep under control, staying the right way up before gracefully getting off and running back into transition.
I found my rack position easily this time, having seen it from that angle before. Bike racked, helmet off, shoes changed, glasses changed, blagged sun visor on and, gel in hand, I looked for the run out.
Learning point 4: find out where the run exit from transition is BEFORE you are ready to start your run. A few seconds of watching the direction other athletes were going showed me where it was, and I trotted off towards it, grabbing a cup of water and a gel from the feed station at the exit from transition.
The run. Running is my 'bête noire'. I've never been a distance runner: I'm not built for it – my body type is somewhere between an endomorph and a mesomorph. I'm built for short bursts of power and speed, beer and pizza. Sorry – built by beer and pizza, not for it. At school, my sports were 100m and shot put, if that gives you an idea. My best 5km pace is a few seconds under 30 minutes, and my best 10km is 1:04. My half marathon, admittedly on a brutal, 60%-trail course in sweltering heat, was completed in 2:33. I'm not a quick distance runner.
If I'm honest, I can run but I'm scared of it. I have had more injuries from running than I've had from any other sport (including karate), so I'm very wary and probably over-cautious about pushing myself hard on a run. Cardiovascular-wise, I can hold a conversation while running over 10k, but I don't like trying to move my legs quickly or kicking back too far. I've trained myself out of heel-striking, following a coaching session with Dave Roper from Brewood and Coven Running, and now land on my midfoot. I have very painful memories of a plantar fascia tear from attempting a forefoot strike a few years ago, so haven't been brave enough to try that again yet.
The run route was nice and flat as well, out and back along the harbour barrage for two laps. I ran the first lap (5km) non-stop, and felt quite comfortable, which was a massive improvement on my painful Wombourne Sprint experience. Following advice from several sources, I took a slow walk through the drinks station. The day was already hot, even though it was only about 10am, so I opted for electrolytes as I considered I was probably sweating quite a lot. Drinks consumed, I started out on lap two. I was starting to feel it now, and managed about another 1-1.5km before having a short walk. I had planned for this, so didn't feel bad about it. I allowed myself a 50-pace walk after running at least 100 paces, and often managed a much longer run between walks.
Approaching the 'lap/finish' split for the second time felt fantastic, as I knew at that point I was going to complete the event, even if I had to crawl, and that shiny medal was mine!
I ran through the split, and headed towards the left-hand turn around the corner of a building, after which I reckoned the finish would be in sight. I had a brief walk on the approach to the turn, to make sure I could run to the line. Another competitor patted me on the back as he ran past me, and encouraged me with a cheerful "come on, mate, you've almost done it!".
Just before the corner, I started to run, and ran 'tall'. My wife, parents and dog were waiting on the finish straight, and they cheered me on (along with loads of other athletes' supporters and seemingly hundreds of enthusiastic kids wearing huge 'High 5' foam hands, which simply had to be high-fived). The effort of the run faded in the face of this support and the sight of the blue carpet and finish, and I even managed a leap in the air as I crossed the line, hearing "Huw Jones, Black Country Triathletes!" announced over the public address system.
Run time 1:01:12, so an improvement on my 10km PB, if the course measurement was correct.
Food, drink, medal, more photos.
My first Olympic distance, but definitely not my last. A fantastic experience that I can't wait to repeat, and improve on.
Thanks to all at BCT and Brewood and Coven Running, and other training partners (too numerous to name) for your support, encouragement, friendship and coaching. I honestly wouldn't have done this without you.
Follow the site to get the latest news and results straight to your email