Black Country Triathletes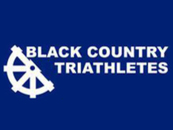 Black Country Triathletes
News Report
MSC Rogner Bad Blumau Double Race Report
Author: Dave Hathaway, 18/07/19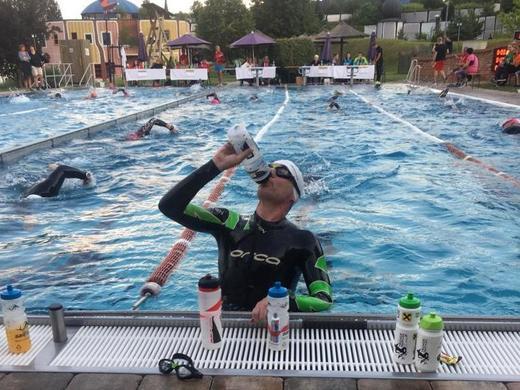 Arrived on the Tuesday in Vienna picked up the hire car and headed about 90 minutes south to "Bad Blumau" to a very unusual hotel / spa complex called "Rogner Bad Blumau" where the race would be based. Had an easy couple of days then just checking the place out and resting.
It was a busy week for the organisers, they had a number of races going on that week and the main race weekend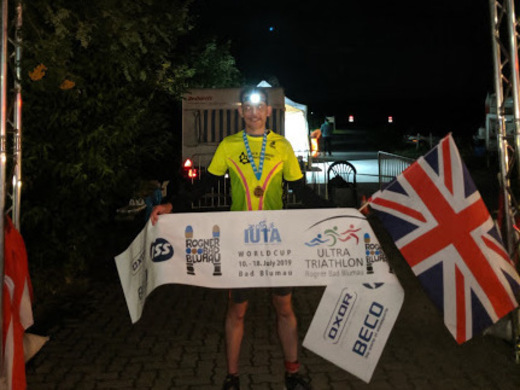 - 10 marathons in 10 days
- Double iron man
- Triple iron man
- Quintuple iron man!!!!
The race briefing was on Thursday where I met an English guy George, also doing the double, and his parents Francis and Miranda. They offered to help me out transporting some of my gear from T1 to T2 which was very kind of them. Afterwards the briefing followed a short flag parade and a presentation dinner for the doubles and triples.
I had a poor sleep on the Thursday night before the race (this is pretty normal for most people I think) but a chance to catch up in the day for the 7pm start and before you know it I had racked the bike and was ready for the 4.8 mile pool swim, all I had to do was remember to count to 304. Well I knew I'd mess that up so took in my watch plus the lap counters put in a 100 metres to go board! I had a cracking swim, wetsuits were compulsory and that makes me so much faster, plus with 3 faster and 1 slower swimmers in my lane, plenty of opportunity to draft. I finished in 2 hours 16 ( 1:48 /100m) and had consumed all my sports drink, it couldn't have been going better.
Onto the bike 10pm, dark already, after applying half a litre of cream to my under carriage I was ready for the 224 miles. I put the waterproof on before long and it stayed wet on and off throughout the night. The course was 137 1.64 mile loops, roughly a third uphill, a third flat and a third downhill on good tarmac. You really has to concentrate through. I had my light on low power to save battery, rain didn't help with visibility, I was being overtaken and overtaking all the time, some of the relay teams were pretty much going flat out where the quintuple riders were going slow. There was a fast corner on a roundabout after a downhill which you took at full speed and a nasty bend turning off a main road onto a the road going through transition that I ended up doing from memory after a while as couldn't see a thing! I set an auto lap buzz about 15m before the bend as an extra warning to turn. I had to watch it on the road through transition too, plenty of people about, bike stopping and pulling in.
My brain was on overload from the concentration and after just 5 hours on the bike I was falling asleep. I ended up taking 3 power naps after 5 hours, 6.5 hours and 8 hours about 15-20 mins each in the passenger seat of my car and I slept big time, each time woken by my alarm. After about 10 hours I stopped for breakfast a ham and egg sandwich and rode the last 4 hours pretty much straight through. The bike took me 14.5 hours elapsed where I was cycling for 12.5 hours so not ideal but if you need to stop to sleep, eat and pee you need to stop to sleep, eat and pee! The bike speed was pretty good overall including the breaks @ 15.6mph average speed and 18.1mph average without the breaks, I kept my HR nice and low, head was knackered, legs going okay.
Picked up my run bag from the car and walked to the café, this was picked up by George's father and I would use their base for my nutrition. Wolfed down a spaghetti bolognaise that didn't touch the sides and just started running the 52 miles (well actually 53.5) made up of 30 laps. I felt great and ran the first 13 miles straight through, the next 26 was a run walk becoming a walk run and the last 13 was a walk as I basically ran out of gas, head was knackered and legs were knackered! I didn't get the nutrition right on the run, I started drinking coke too early and although snacking at the aid stations just didn't really fancy anything. The ants were definitely into my nutrition as had an ant infestation in my ruck sack kindly sorted by my adopted helpers. The run took me 12.5 hours and all pretty much without stopping, my right shin and achilles were a bit sore and I was really tired as into my second night without sleep.
I finished at 1am on the Sunday in 30 hours and 9 minutes, 8th place out of 20. On the final lap I carried the GB flag with me getting high fives from the other competitors and cheers from the crews of other runners. This was a nice touch.
The next evening was the presentation evening dinner and it was great to talk to the others about their experiences, everyone was so friendly, the organisers and representatives from the governing body: IUTA.
I spent the Monday morning with an English guy Stuart who was doing the quintuple solo, so without a support crew. I ran a few laps with him as he completed his final laps and he came 3rd with 3 hours sleep in the 3 days and was still talking sense!
Overall a great experience and I'll be doing something similar again, I'm hooked.
I have a load of people to thank without them this wouldn't be possible
My family for letting me get on with this hobby which gives me a focus outside of family and work. Garry Palmer @ Sportstest my coach, for getting me in the best shape I have ever been in my life before this race and I can't wait to work with Garry for the next race. Andy Southall for always being interested in my training and what I am doing and offering me advice, he even now has me looking like a bit of a cyclist having helped me with kit selection. You don't have to learn from your own mistakes if you listen to others, I finished blister-less on my feet and without any sores on my back side! James Lewis for beasting me down the gym – it is all about the core James. Ste Beck for lending me his lights and making me a light mount to fit between the Tri Bars. Steve Blakemore for lending me his light. Alan Bagnall for the swim coaching, think I need to wear a wetsuit all the time. Andrew Caldwell @ Active Therapy for getting me to the start line, I had a few injuries this year and six weeks before the race it was looking desperate with a tendon injury but he came good working with Garry on "Injury Management".
Follow the site to get the latest news and results straight to your email