Black Country Triathletes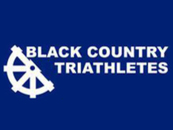 Black Country Triathletes
News Report
Round up July 13/14
16/07/19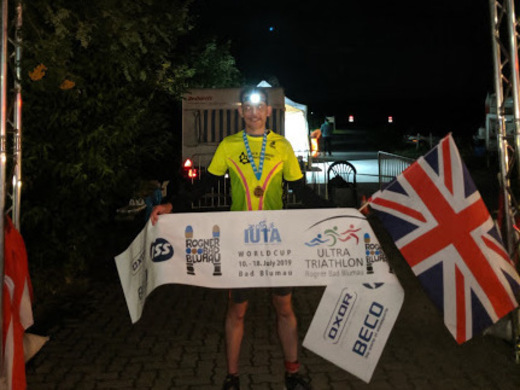 Long distance award in more than one way goes to Dave Hathaway who travelled to the Rogner Bad Blumau ultra-Triathlon in Austria. This crazy double iron distance event comprises a 4.8 mile swim in a 25 metre pool a 224 mile bike on a closed road bike course finally the 52 mile run on a multi lap course. Total time 30 Hrs 9 mins, 8th out of 20. Amazing effort on this event starting at 7 Pm and going on through the night. Well done Dave, see you at the quintuple next year?

Closer to home Upton on Severn hosted a sprint and standard distance event. A great event combining a river swim rolling bike and mixed terrain run. Results I have are as follows, standard: Clare O'Kane first timer at standard distance 2.59, Shameer Gopal 3.07, Rob Charlesworth 3.04, David Newport 2.23 6th in AG, Sam Palmer 2.14 7th in AG. And in the sprint event: Lauren Evans 1.17 2nd Overall in the ladies, Karen (The Hoff) Richards 1.29 3rd in AG Sarah Kennard 1.31 4th in AG, Jo Acha 1.32 3rd in AG, Tim Lake getting a late entry 8th Overall and 2nd in AG with a time of 1.13, Cian Gopal 1.20, Ollie Evans 1.17.
Some great results there for the club always well supported by our club.
Making the journey to Bolton for this years Ironman UK were Sarah Postles and Carl Bridgwood crossing the line in 14.52 to become a first time "Ironman", well done Carl. Unfortunately Sarah was just short of the bike cut off and was not permitted to run. A cruel way to end the day but a great effort nonetheless.
Down to the Sunny shores of North Devon Ashley Kirkham took on the Croyde Ocean Triathlon with a lumpy sea swim even lumpier bike around the beautiful lanes of North Devon and a tough run taking in the North Devon Coastal path. Looks like a fantastic event and once rated by 220 Triathlon as the 5th Hardest Olympic distance event in the world. Ashley crossed the line in 3.17 and then got down on his knee and Proposed to his partner Victoria, congratulations to you both.
A quick mention this week goes out to Lee Moreton who I have overlooked on a couple of recovery runs following his Celtman race. The first being Cannock Chase Half, where Lee placed 5th and 1st over 40 yrs, great result there, followed up 2 weeks later by a Full trail Marathon up and down Scarfell Pike. Excellent work Lee.
Finally our guys were out on the Ride for Joe event on Sunday which was going well until Chris the legend Pedley crashed after hitting a pothole. A nasty accident which involved an ambulance ride to Telford A&E where Chris was given a good check over. A few broken ribs and various scrapes fortunately nothing worse than his usual terrible jokes. Hope you are back training again soon Chris.
That's it for now. Please keep them results coming in.
Follow the site to get the latest news and results straight to your email